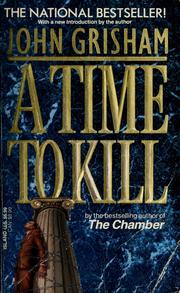 In my last post, just like many times in the past, I talked about literature being adapted into movies. If a movie has been creating a buzz and it is based on a book, I usually try to get my hands on the book and read it before the movie releases. However, like most things in my life, matters often go backwards. In other words, the chances of me having seen the movie and then getting my hands on the book are more likely. And in many cases, the movie is one that I have liked and enjoyed (and maybe watched multiple times).
I'd moved on from the likes of Grisham since college. The last book I remember reading by him (which could also be the only book I've read by him) was The Pelican Brief. But A Time to Kill is one of those legal dramas I watch every time it's on TV (just like A Few Good Men). So keeping in mind my recent desire to read books for mere enjoyment, I picked up the book version by John Grisham.
A Time to Kill is Grisham's first novel – and this is obvious in some parts. The writing is not consistent and there are quite a few editing problems. But, overall, the novel is very engaging and well written. While the movie adaptation is quite compelling, with a moving performance by Matthew McConaughey, it falsely led me to believe that the source material would be just as heavy and somber. Quite surprisingly, Grisham is able to maintain a humorous tone throughout. When Carl Lee Hailey's ten-year old daughter Tonya is raped and left to die by a couple of good-for-nothing white men, the heretofore honest, black man decides to take the law into his own hands. He shoots the two men in broad daylight as they are leaving the court. Carl Lee asks Jake Brigance, a young, white lawyer, to take up his case because Brigance has successfully acquitted Carl Lee's brother in the past. Brigance, in spite of knowing that the case will not be financially profitable for him, accepts Carl Lee as a client because he's savvy enough to know that it will make him famous. What he does not know, however, is that their little town of Clanton, Mississippi is going to erupt in a racial battle, endangering the lives of a lot of people involved in defending Carl Lee.
For someone with little knowledge, but a lot of interest in legal proceedings, Grisham's writing is enjoyable. I am not sure how one would read his writings if you were well-versed with the law. For me, Grisham explains enough to keep me intrigued and informed. The manner in which both the prosecution and defense play dirty and jump through loopholes to get what they want is utterly fascinating (and these nuances are lost in the movie version). Compared to the movie, which I will enjoy less now thanks to having read the book, the characters have a depth and broadness that just doesn't translate on the screen. Jake is a competent and kind lawyer, but he also has his eye on the ball – to make sure that defending Carl Lee proves to be a successful career move. Carl Lee is not a helpless, hapless man – he spends his time in jail very well, using his incarceration in a politically suave manner and enjoying the hero-worship he gets offered by people.
It's little things like these that always make a book so much better than a movie. The only drawback is that it has a negative effect on your movie-watching experiences of the future.